There are plenty of website builders for users to choose from. So naturally, when a new player comes in, it has to take a piece of the market from the existing brands and make a name for itself. One of the fresh faces attempting to venture into website building is Bookmark. The Canadian company has been around since 2016 and means serious business! In my attempt to find out what this company is like, and what goals it expects to achieve, I sat down with Bookmark's Founder and CEO David Kosmayer. Here's what I found out:
Your client grows with you
Bookmark isn't a project founded by two high-school students in a garage somewhere. As a matter of fact, it wasn't a garage - it was a basement; and before founding Bookmark, this is where David Kosmayer has started an affiliate marketing agency. It was a wildly successful project which has also helped to meet a lot of small business owners and find out their concerns. It was obvious that there was a gap in the market. A gap which later Bookmark would attempt to fill.
I got to see how small business owners and entrepreneurs are reacting to the changes in the business landscape and their difficulties adapting to the "online world". This drove me to start Bookmark.
David Kosmayer
Every user is unique
Many website builders tend to be driven by templates. In other words, a user of a website builder will just choose one of a handful designs. This way, many projects ended up looking exactly the same, because in most cases, they were! Therefore, the goal was simple - to make a website builder which makes uniqueness its top priority.
We decided to try something different. We wanted to build every user a unique website specifically for them. A website that works specifically for their business, their industry and their unique preferences.
David Kosmayer
A team of software engineers, AI developers, and website developers was created. It worked together to make a product that creates unique websites with ease. Using organic algorithms, machine learning and years of web design and overall business experience has boiled down to a single product. Bookmark allows anyone to make a personalized website in just a few minutes.
Artificial intelligence isn't just science fiction
Every individual, every business, and every industry is unique, with their own quirks and demands. A.I offers an experience which differs with each type of user. Images, sections, designs are all ever so different to help its users express themselves. The system applied even has a human touch to it, as it has a name - AiDA. It means "Artificial Intelligence Design Assistant".
AiDA works behind the scenes. It (or she, perhaps!) gathers information about your business from the things you input and uses it to figure out sections, images, and elements needed for the website. Thousands of data points combine to make a perfect page.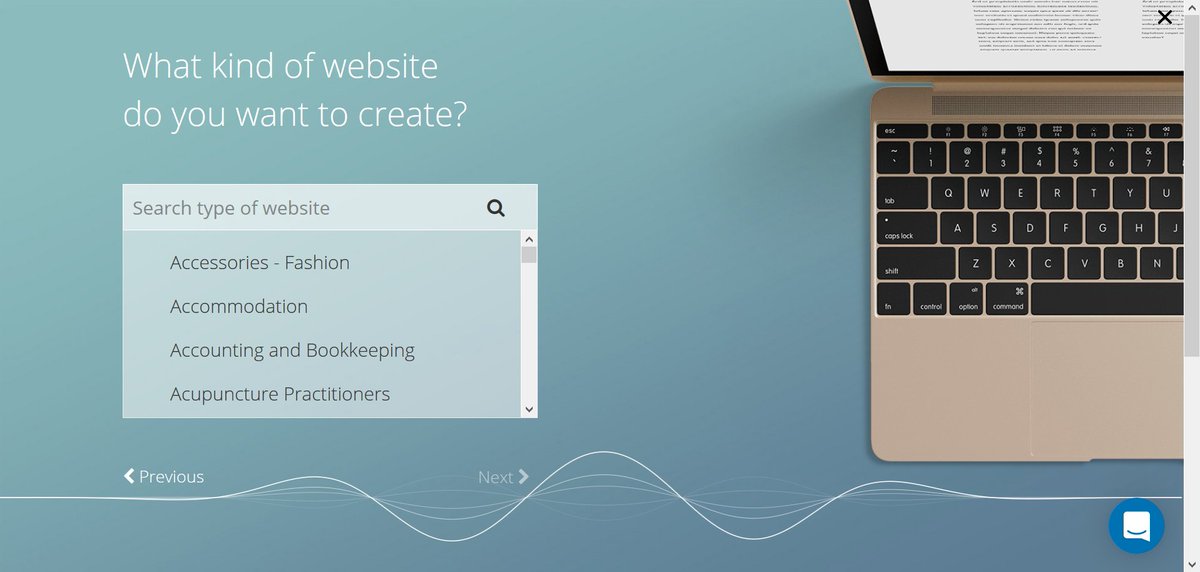 The artificial intelligence will start shining even more as the time goes by. With every website that's being made, with every decision the owners do, AiDA will only become smarter and smarter in the future. This means the only way is up and the websites this assistant makes will only be more fitting to various types of clients.
We are continually learning from the user's interaction with Bookmark and the decisions they make, which allows AiDA to make smarter design decisions in the future. The ultimate goal is to make AiDA the most experienced website designer in the world.
David Kosmayer
Help and care for your business
It's clear that the customer is a high priority for Bookmark, as David Kosmayer explains when asked about their mission statement:
We are all driven by a single mission: to empower business owners with the ability to build and grow their online presence. So in essence, the customer comes first.
David Kosmayer
Customer service is a big part of it. The company is working very hard to ensure that the users get high-class customer support and great services in general. The help offered by this company, however, doesn't end with just the internal Bookmark dealings. eLearning courses such as "Intro to Facebook Ads" or "Building your online business" are being done in order to make sure the users grow together with the company. The increased online presence of the users is Bookmark's priority. So it does its absolute best to help as much as possible.
People understand how important it is to be online and tackle the world of digital marketing. So instead of spending thousands of dollars on developers and experts, Bookmark encourages its users to learn and improve. In addition to this, provide a way to create a website without writing a single line of code. Full control of the page and an increasing set of marketing and development skills may turn even the biggest rookies into superstars.
Bookmark is ready to make a mark
2018 is going to be huge for Bookmark. With a great mission in mind and a constantly-evolving A.I website designer, the best is still yet to come. Despite my dearest attempts to persuade David Kosmayer into giving me something interesting to work with, I was unsuccessful. However, the new improvements are inevitable and there's plenty to come. Here's what he had to say:
We are growing rapidly in North America and are now focusing on major improvements in the product itself. We are working on a lot of design improvements to improve the overall design and look of the websites created by AiDA
David Kosmayer
The new features will constantly get added throughout the year and by the looks of it, it's going to be a very interesting platform for years to come. This is panning out to be a very interesting company.
What about the existing users?
All of the features that will be added to Bookmark are also incredibly likely to be available to current users as well. A lot of AI-related features will make website development and updates even easier and more powerful than they are now. No matter if you're just considering to buy services or you're a longtime user, 2018 is going to be huge for Bookmark and everyone on board with them. We can't wait to see what's going to happen, so stay tuned.
---